Empower Fitness' personal training services are designed to help individuals achieve their utmost potential. Our programs utilize a variety of traditional strength and functional methods to develop both strength and coordination, increase fat loss, decrease your risk for injury and enhance your performance. Our goal is to maximize your workouts and keep you moving one step closer to your goal, every workout. Empower Fitness workouts are dynamic, educational, safe, and most importantly productive. We incorporate resistance training, balance training, cardio workouts, plyometrics, core training, functional fitness and flexibility. Empower Fitness successfully designs programs for people of all body types and abilities, making them fun, efficient, challenging and capable of producing the results they expect and deserve!
What makes Empower Fitness' programs so effective is that your program is completely customized to you, and your unique body type. We focus on your specific problem areas and fitness goals. And since the program is customized to your exact needs you don't waste time doing things that won't work for you. We will be making your efforts pay off!
Fitness Training Methods:
TRX Suspension Training
Bosu Balance Trainer
Sandbells
Kettlebells
Free Weights
Body Weight Exercises
Resistance Tubing
Plyometrics
Medicine Balls
Stability Balls
Calisthenics
Spin Bikes
Stretching
Every client begins with a complimentary consultation where we will discuss your goals, answer all of your questions and gather the information necessary to create your personal fitness program. All personal training programs include a fitness assessment, body measurements, body fat testing, nutritional assessment and goal setting as part of your first session.
Pre/Post Natal
Exercise during pregnancy may seem daunting. We will work with you throughout your pregnancy adjusting each session so you can feel at ease knowing you are working out in a safe environment for you and your child. Then when you are ready to come back to training we can work with you to design a program, which takes into consideration any effects of childbirth, to help you get back into exercise when your physician gives you the all clear to exercise.
No workout has ever been the same, she puts a lot of time and effort into personalizing each session. I started going once a week and quickly increased to three times a week! She has helped me to lose the baby weight, gain muscle and strength, as well as suggest some simple changes to my diet to make it healthier. If you are looking for a comfortable yet intense and motivating workout I would highly recommend Empower Fitness and give Kari a chance to work with you! I am so happy that I did! — Nicki S.
Older Adult Fitness
Empower Fitness provides a one-on-one functional fitness programs  that encourages participants to be independent, safe and mobile. Our functional fitness assessment and subsequent individualized program focuses not only on a person's strength, mobility, and endurance but especially a person's ability to perform their daily activities. We focus on building a body capable of doing real-life activities in real-life positions. As people age, there's wear and tear on the body. They lose muscle mass, bone strength and their sense of balance.
Functional fitness focuses on keeping seniors independent as long as possible. Frequent exercise can help relieve arthritis pain, reduce the risk of falling and even lower the risk of type 2 diabetes. We create a customized fitness program to address the specific needs and goals of each individual.
As a Certified Specialist in Fitness for Older Adults, Kari has excellent skills and training in senior wellness. With a compassionate and respectful approach, she builds trust, achieves goals and fosters caring relationships with her clients.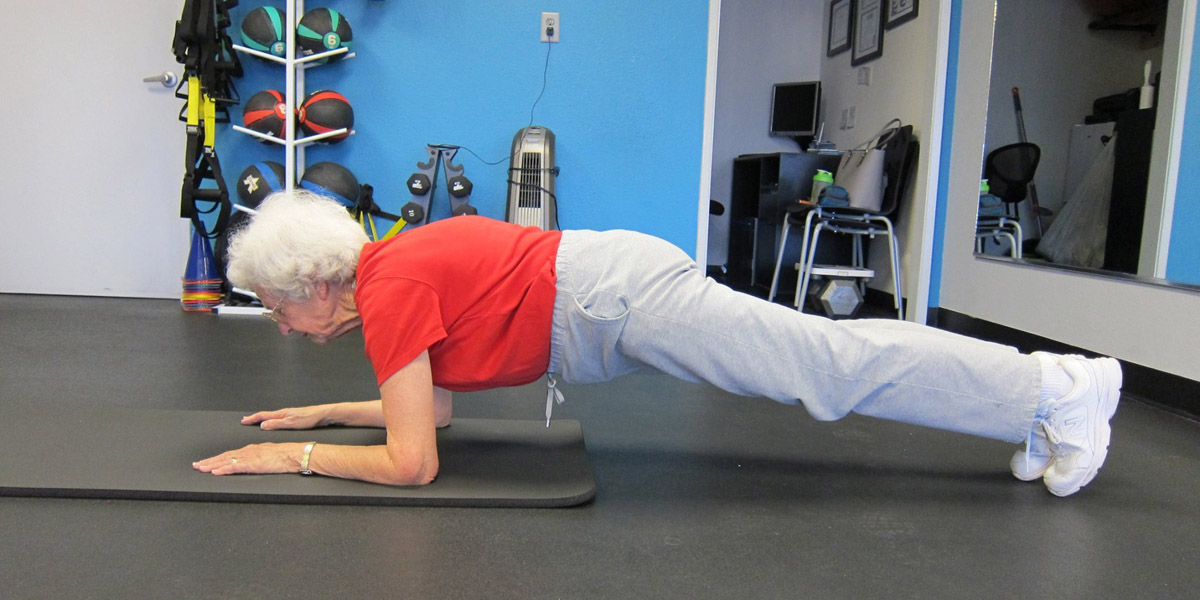 I met Carol in April 2014 when she came with her daughter for a consultation for personal training services. To put it mildly she was pretty resistant to the idea, never had "worked out" and was doing it to make her daughters happy. Carol had severe back pain and for the most part was sedentary not able to participate in the things that bring her joy like gardening. Over the past four months we have worked on functional fitness exercises that focus on building a body capable of doing real-life activities in real-life positions. She has made huge amount of progress in understanding body mechanics, building core strength, increasing balance & flexibility. At 75 years of age, she is beginning to enjoy life again. Does she still have aches & pains, of course! But she is able to use what she has learned and move in a way that minimizes her pain. I am so proud of the progress she has made and the fact that she chose me to help her. As we continue on our journey together we will work on building more mobility and function for her daily life.